Jonathan Luehrs
Please share a little about yourself, and how you came to be (or interested in working as) a Community Manager.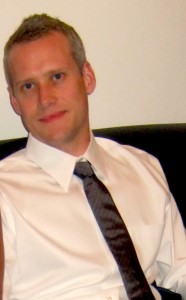 My interest in the online communities stems from the first experience I had as an active gaming community user in my early teenage years.  I have been online ever since the creation of Prodigy and quickly moved onto AOL message boards.  Since then the environments in which I participate have changed dramatically and my ability to engage a community has evolved.  Currently, I am actively involved with several communities via Facebook, WordPress, and Twitter, which include topics such as travel, literature, and racing.
Where are you located, and would you be willing to relocate?
I am located in Atlanta, Georgia.  I am completely open to relocating anywhere and welcome the opportunity.
What are you looking for in a Community Manager position and are there specific areas you would like to concentrate on?
I love writing and developing relationships with my followers through ANY online community.  Whether it's travel, racing, running or literature, I have always been gregarious and looking to make new friendships through common interests.  However, I am not looking for one specific niche professionally.
What would you say are the best things about being a Community Manager? Eg What do you (or would you) enjoy most about the role?
As a community manager, I'm allowed to utilize my strongest skills by engaging an audience via creative content and outreach.  I've always enjoyed customer service, thank-you marketing, and PR, which seem to blend as one as a community manager.
Following on from that, what is the worst thing about being a Community Manager, and how do you deal with that?
I would have to say the worst thing is dealing with "trolls" or troublemakers.  These are the type of people online that are not adding anything of value to the community, but trying to create an annoyance in order to evoke negative responses within the group.  I usually delete the comment immediately and ban the user if his/her post contains vulgar language or hatred towards another user.  However tight moderation is a negative in some communities, so having the help of an active community member calling out this troublemaker has been effective in the past.
Share something about yourself that only a few people know about you, but you wish MORE people could know.
I have a quiet and reserved type of personality but it hides my intense passion to do a task above and beyond what is expected.
If you were written about on front page of a newspaper or magazine, what would the headline say?
How the Traveling Introverted Writer became a Social Media Extrovert
Is there anything else you would like to share?
I have a heart for helping and informing people both in my personal life and professionally.  I get a kick out of making others happy.
Where can you be contacted? 
About me: http://about.me/JonathanLuehrs 
Twitter:  @JonathanLuehrs
If you would like to be featured in this section please get in touch.